Children and youth are our precious innocent gifts who thrive mentally, emotionally, intellectually, and academically when engaged and immersed in music! Musical study helps to create empathy and sensitivity to others, personal confidence, problem-solving skills, has therapeutic value, and helps students to learn teamwork through collaborating musically. All of my wonderful students inspire me continually as they progress ever more deeply and with enthusiasm into the realm of music-making, teaching me things, themselves, about life and about teaching as we travel together along the journey of mentorship and the building of musicians.

Piano lessons can change the lives of both children and adults, alike, in the hands of an excellent teacher. You or your child can learn to play the piano with ease, with great love, with a natural technique which permits you to do whatever you would like to do, and and with tremendous joy and confidence!
The terrific people in my studio are my deepest inspiration as a teacher!!!!
Online lessons available if desired.
NEW as of 2019: We've been fortunate to be able to add a new location: Warwick, NY. Students may study at my home in Vernon, NJ, or at a church in Warwick which has kindly permitted us to use its beautiful sanctuary, the same one in which we also hold our recitals.
I've had the good fortune of discovering the first-ever college-level course in piano pedagogy teaching the Russian technical method as taught by Leschetizky, who, together with Franz Liszt, is considered the greatest piano pedagogue of all time (Encyclopedia Britannica). This curriculumhas heretofore been written all in Russian and taught throughout the Russian and Baltics world, leading to competition winners in numbers comparable to the Russians in skating and ballet. However, 12 years ago, a Russian immigrant to the U.S., Irinia Gorin through The Gorin Institute, made it available in English as well as in many other languages around the world and travels the globe teaching this approach. I am so pleased to be able to offer this wonderful, highly imaginative method to my students, having completed the course. It enables the most possible relaxation at the piano so one may feel organically "one" with the instrument rather than fighting it! Contact me to arrange an interview so we can meet and I can show you this method and the teaching props that accompany it for creative and playful learning.
Additionally, I incorporate Taubman approach principles in the later years to further refine technique for prevention of musicians' injuries, which 70% of professional pianists eventually sustain, such as tendinitis and carpal tunnel. Here is an introduction to the Taubman approach so you may understand its concepts, which are based upon how the body works to take into account healthy ways to play for a lifetime of injury-free playing: https://www.youtube.com/watch?v=1wJDSekkztQ
We've quite an active studio with much going on to enrich and stimulate! In addition to the regular lessons, optional enrichments, some free, some available at low cost include:
* studio recitals
* field trips to concerts featuring the piano

* master classes (The dark-haired woman in the photo at right behind the children who participated in the class is Joan Bujacich, our master class clinician from this year.)
* non-competitive auditions on college campuses for a written evaluation of their performance (input from a well-respected teacher-adjudicator)
* duet-playing with other students to develop collaborative skills with other musicians
* piano parties which offer fun, music-themed movies, and friendly competitive games surrounding skills such as Note I.D. and clapping rhythms
* instruction in composing and the use of composing software to make their final rendering look truly professional
* access to playing in monthly "big" recitals through MEA-NJ and PVMTA
In lessons, students pursue tailor-made plans of study based upon their own goals and dreams for the piano. Some examples of things we might do to help them learn include, but aren't limited to:
* studying various genres of music
* varied curricula (such a variety of options, depending on the student's own needs, pace of learning, and goals! Irina Gorin's Tales of a Musical Journey, rote learning such as Paula Dreyer's "Little Gems", Edwin Gordon's Music Learning Theory, Keith Snell, Dr. Jane McGrath, Alfred Adult, Keyboard Musician for the Adult Beginner, plus we pull in supplemental solos and books so the student may pursue their own favorite genres while still learning in the method books teaching them "the fundamentals")
The field of piano pedagogy is only just now beginning to work on deriving evidence-based methods. It is an exciting time as all the research results emerge, improving the field of piano teaching forever and very quickly!

* rudiments from the very beginning including first pentascales, then full scales, major and minor, add arpeggios and then chords and cadences...Expanding the scales out to extra octaves, different subdivisions of the beat, 3rds, 6ths, and 10ths, contrary motion, shifting accents, varied articulations
* études (technical studies) as needed for further work on a particular technical skill
* music-learning games including fun competitive ones with the other children if the student enjoys this
* engaging digital music apps containing animated learning games to help lighten the burden of learning to read musical notation to make the process more enjoyable
* those participating in auditions receive a trophy, as well, at the final recital because it's a great thing to "put yourself out there" for evaluation by another teacher! And spurs tremendous musical growth during the preparation and growth in confidence. Why should only sports kids get a trophy when music kids also work so very hard? ;-)
* occasional practice incentives such as practice for 100 days in a row and earn a prize
* little animals which students may place on the keys to demonstrate knowledge of which key on the piano corresponds to notes on the staff (The animals make happy animal noises when the student is correct, and objecting animal noise when not - but funny ones!) Bringing fun into learning.
* a floor piano to play with their feet while learning which keys correspond to which letter name and note on the staff
* drawing rhythmic notes on the sliding glass doors with window markers and write the number of beats they receive, draw a clef, etc.
* Orff rhythm instruments sent home for use in rhythmic practice
* bounce the rhythms on a mini-trampoline :-)
* And more! We're adding to the studio all the time to build learning and build complete, well-rounded musicians with a complete musical education.
Our studio is always expanding in its imaginative offerings to engage students and provide them with a variety of ways to meet their individual learning styles and reinforce concepts and skills.
Our recitals are held in a church with a lovely grand piano. Our studio space features also a beautiful antique 1908 Bechstein grand piano, 7 feet 6 inches long, with lovely carved features and a beautiful tone and sensitive response. You or your child will love playing on both of these pianos! We've also held recitals at nursing homes to bring music to those who need a loving human connection and to hear live music.
* In addition to learning to play the piano, our studio helps those students who'd like to try performing to become polished performers, which is an entirely different skill than learning to play for one's own pleasure. For those desiring to learn performance, we work on every aspect of performance: the prep/time management of practice, learning to problem-solve in practice sessions, how to change the way we practice as we grow close in time to the performance, the student chooses their favorite style from a range of possible types of bows to the audience and practices bowing at the lesson and during practice sessions to allow it to become "natural", making eye contact with the audience and smiling, remembering to adjust the height of the bench and the distance from the keys (both very important!), how to get oneself into "the zone" before ever lifting one's hands to the keys to play...There are so many facets to becoming a confident performer who enjoys sharing their music with others! We work on all these things because if the student knows what to do and how to comport themselves on stage, this reduces anxiety tremendously so that they can enjoy the actual experience.
* Students débuting in their first recital receive flowers to congratulate them for their special achievement :-)
FOR CONTACT with questions, discussion, or to set up an interview:
Call: (973) 764-0828
Text: (973) 862-0668
Email: cherwyn@warwick.net
Facebook PM: https://www.facebook.com/Piano-Lessons-by-Cherwyn-Ambuter-1539533876358935/?ref=settings
Here's a newspaper article about one of our field trips:
http://www.advertisernewsnorth.com/article/20160310/ENTERTAINMENT/160319993/0/SEAR
My training includes:
* B.A. in Music, Tufts University (studies with Merilyn Neher)
* M.M. in Piano Performance, Cincinnati Conservatory of Music (studies with the Pridonoffs and Richard Morris)
* add'l training with Gail Niwa (1st female winner of the Gina Bachauer competition), Robert Durso, master Taubman teacher
* further piano pedagogy instruction with renowned "teacher of teachers" Irina Gorin (Gorin Piano Pedagogy Course I)
* Two-time competition winner- the Tufts Concerto Competition (open to all instrumentalists in the university) and the Elizabeth V. Tischler Piano Competition
* Master classes with The Tokyo String Quartet, Joseph Kalichstein (March, 2016), The Raphael Trio, Eugene Pridonoff (former student of Rudolf Serkin).
* Jazz Improvisation course from the Berklee School of Music (December, 2015)

Age-appropriate teaching techniques and child-friendly warmth of spirit. Special patience for children with learning disabilities or ADHD. Adult courses of study chosen to coincide with what you want to do with the piano.
Contact me for an interview explore whether our studio is for you. Then I encourage you/your child to go home, think & talk about it, and make a decision (and please let me know).

EQUIPMENT FOR PIANO LEARNING:
* acoustic piano (best) or touch-sensitive, weighted-key digital piano with 88 full keys
* adjustable piano bench that can tailor the child's height to bring them to the proper relation to the height of the keys...
This one is terrific, safe, stable, and has many settings and is the easiest by far to use ---> https://exemplarfg.ca/
* or, a traditional bench with suitable and safe, stable height-builders if needed such as a firm pad


This one is TREMENDOUS! ----> https://www.vandaking.com/booster-cushion-handle.html)

* piano pedal extender - because feet must be either flat on the floor, or else flat on another support on which the weight may be distributed, along with "sit bones" on the bench and fingers on the keys. Student must be able to sit on the front half of the bench without sliding forward and falling off. (Dangling legs pull their weight forward, making it hard to sit on the front half of the bench.) Student must also be able to lean forward as needed to drop weight into the keys.
Here is a wonderful pedal extender. I understand Irina Gorin is in the midst of developing one that will be even better, though - coming soon! Current recommenation: ---> https://www.dphmusicarts.com/store
* Benefits of musical study:
Piano Lessons raise IQ and - just as importantly - sharpen the ability to sense emotions http://www.apa.org/monitor/jun06/iq.aspx
Musical study rewires the brain to make us into a better communicator, on and off the stage. And, keyboard study, specifically, is the very best instrument for doing this because of the equal treatment of left hand and right hand! http://www.limelightmagazine.com.au/news/study-shows-music-can-rewire-brain
Music Lessons may help focus children's attention, help them control their emotions, and reduce their anxiety http://psychcentral.com/news/2014/12/26/musical-training-may-improve-attention-span-anxiety-levels-in-children/79079.html
Music Lessons help kids with their math skills http://www.berksmusic.com/whymusic/whymusicimprovemath.html

Music Lessons boost verbal memory http://www.apa.org/news/press/releases/2003/07/music-memory.aspx
Music Lessons may boost IQ and grades http://www.apa.org/monitor/jun06/iq.aspx
Music lessons boost language skills http://www.webmd.com/children/news/20141216/music-classes-boost-language-skills-study-says

Two years of music lessons helped bridge the famous "achievement gap" in underprivileged kids http://www.webmd.com/parenting/news/20140903/music-lessons-may-help-bridge-achievement-gap

The following 10 benefits are supported with documentation at: https://www.psychologytoday.com/blog/the-athletes-way/201503/10-ways-musical-training-boosts-brain-power
Ten Ways Musical Training Boosts Brain Power

Babies who have music lessons smile more and communicate better
Benefits brain plasticity throughout a lifespan
Trained musicians have superior multisensory processing skills
Improves white matter connectivity
Increases blood flow in the brain
Improves executive function
Thickens gray matter of the cortex
Reduces academic achievement gaps
Orchestrates coordinated neuroplasticity in the aging brain
The following points are found at this well-researched brochure:
http://www.uscsd.k12.pa.us/cms/lib02/PA01000033/Centricity/Domain/173/Music_Advocacy_Flyer.pdf

Children with musical training:
* Score higher on the SAT
* Receive more awards and academic honors
* Have better self-esteem and less shyness (piano lessons were specifically studied with regard to self-esteem!)
* Have less school delinquency and better school attendance
* Are the most likely group to be admitted to medical school
* Piano students are better-equipped to understand scientific concepts
* Are emotionally healthier by the time they arrive at college and are less likely to grow addicted to alcohol while in college
Beyond all these benefits, music lessons will assist you or your child with growing confidence presenting in front of a group, bring lifelong enjoyment and stress release, help prevent cognitive decline during the aging process for adults (with ongoing music-learning), provide an activity in which to participate and work with others, and meaningfully enable you or your child to become part of the creative process/flow of humanity.

www.pianolessonsbycherwyn.com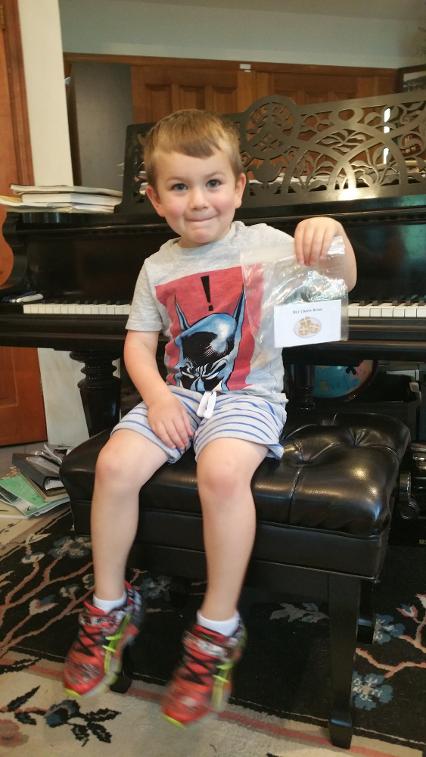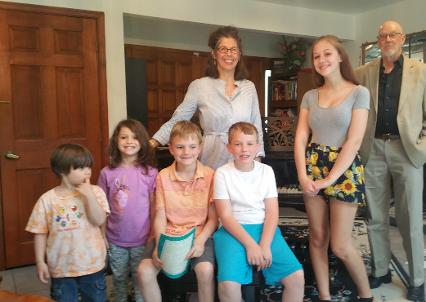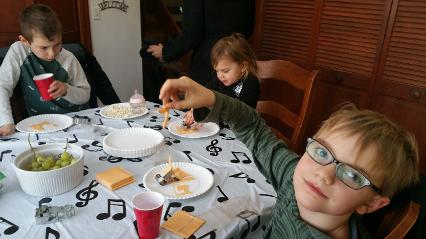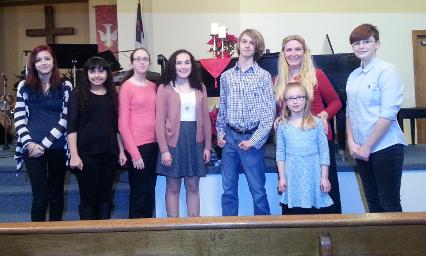 Consider purchasing a package of piano lessons for yourself or a loved one as a special gift...Valentine's Day, birthday, Christmas/Chanukah, piano lessons are always welcome and are a therapeutic relaxation for stressed adults!