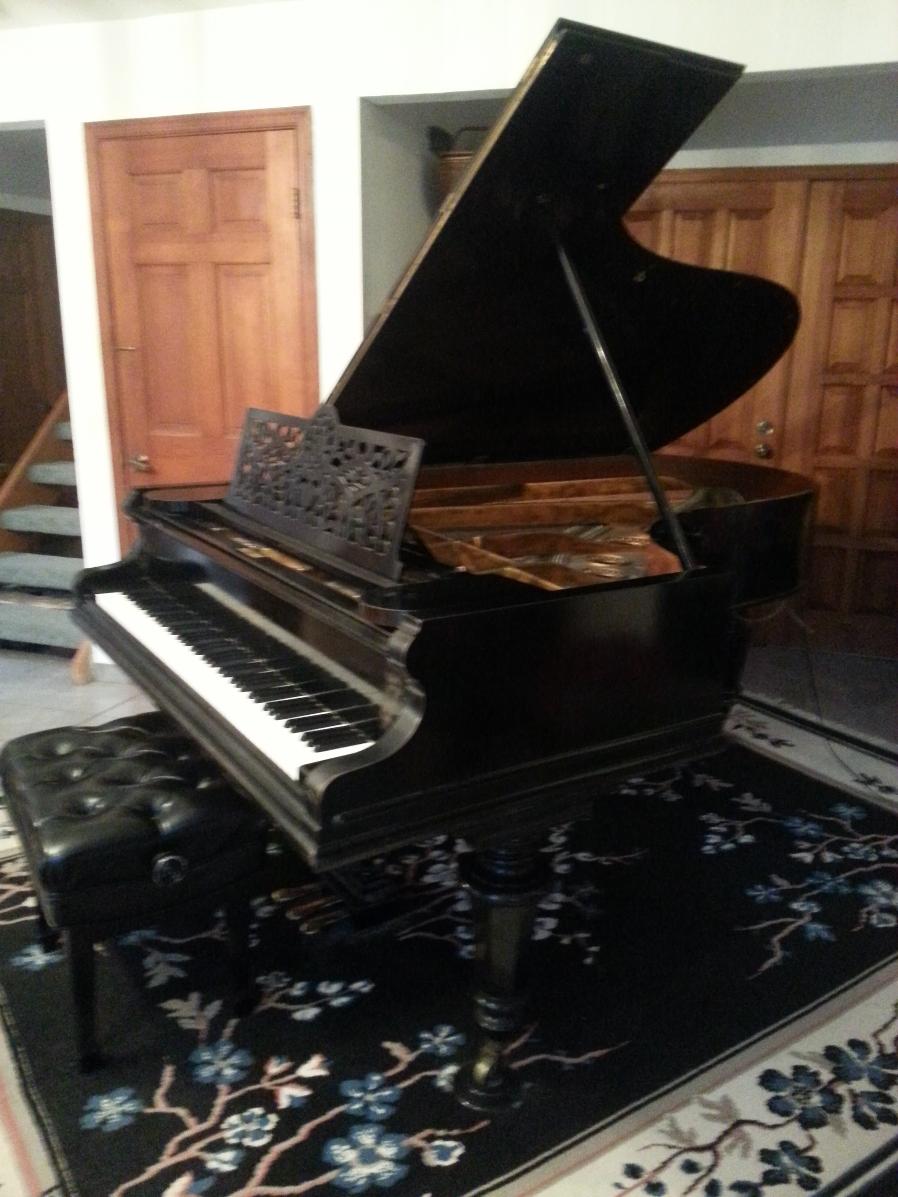 Here is the piano on which students learn to play in our studio. It's a 1908 Bechstein, 7' 6" in length, a gorgeous piano in the grand old European tradition. It is a superb instrument on which to learn! The "Bechstein" is well-revered everywhere, but especially in Poland (land of Chopin) and Russia (land of Horowitz, Ashkenazy, Lhévinne, Bronfman, Richter, and Rachmaninov).
Carl Bechstein, a German piano maker, set out to make a heavy piano well-suited to the dynamic pianism of Franz Liszt and other virtuosi. Liszt kept breaking strings and overpowering the piano! In 1857, Hans von Bülow, Liszt's son-in-law, presented the first public performance on the Bechstein piano with the famed Liszt B-minor sonata in Berlin. Liszt went on to endorse the Bechstein, and students of von Bülow and Liszt favored it. It competed directly against Steinway and Blüthner. Many famous pianists have loved the Bechstein. Claude Debussy said, "Piano music should only be written for the Bechstein." It has a lighter touch (less resistance) than the Steinway, making it perfect for the filigree-like figuration common in Debussy and Ravel.
More contemporary artists choosing the Bechstein were Freddie Mercury on his A Night at the Opera album, and jazz "great" Oscar Peterson throughout his entire career. The music video for Elton John's Sorry Seems to Be the Hardest Word features John playing a white Bechstein grand.
Bechstein is known as an artcase piano maker and will make one-of-a-kind collector pianos with artwork on the case, gold-leaf paint, and hand-carved details.
I am so very happy and dearly blessed to own this exquisite piano, and to be able to offer it to my students for the purpose of studying how to play properly! Mike Wathen, former piano technician at my conservatory and at the Cincinnati Symphony, sold this instrument to me. (P.S. That electrical cord and tubing on the far end of the piano...It's part of my Dampp-Chaser humidifer system, which is affixed to the underside of the piano and adds moisture in winter to protect the wood, and dehumidifies in summer. Strange to see an acoustic piano "plugged in", isn't it?)