I absolutely love sharing the joy and beauty of music with people and helping them throughout their journey of exploration with this gorgeous instrument! Playing the piano is like having an entire orchestra at one's disposal...So many varied sounds, tones, and colors, moods, and musical experiences can be elicited from the piano. I love to produce colors, effects, shape an exquisitely beautiful melody to grip the heart. I love helping students enter this sound world as they learn to play the piano. This is a very special instrument with so much to share with each one of us for a lifetime.
I've worked with so many, many different kinds of people from ages 4 through 75 years of age, and cherished every minute of it! My studio has students working on so many various projects - ragtime music, classical, learning to play by ear, to improvise, to arrange, preparing for special solo performances in school music events, playing in recitals and MEA auditions...And on top of all this, we take field trips to see fantastic professional piano concerts for ongoing inspiration and motivation! We offer free piano parties for additional music enrichment and bonding between the students, we play in nursing homes, and this fall, we're doing a fundraiser "Practice-A-Thon" whose proceeds will benefit Hurricane Harvey disaster relief. Our students learn to use their music in so many varied ways including to help others! Ours is a piano studio with "heart"! With the little ones, lots of patience is there for them and we find really active, fun things to do such as dance, sing, play Orff instrument,s draw rhythm notes on the windows with window crayons, bounce the rhythms out on the mini-trampoline...This is truly individually-tailored instruction to really meet the needs of the student! Here's a newspaper article about a recent field trip: http://www.advertisernewsnorth.com/article/20160310/ENTERTAINMENT/160319993/0/SEAR
One new feature in the studio for this 2017-2018 year is that we'll have a master class for the students by former MEA-NJ president Joan Bujacich, a wonderful, animated, engaging, warm and positive-minded teacher who will bring fantastic things to our students by way of helpful tips and advice int he master class, to be held in the spring. Joan performs regularly in the areas of jazz, rock, and classical music, and is happy to help students with each. I'm so THRILLED she has consented to provide the class for us!
Another new feature is the use of the Royal Conservatory Method curriculum, which offers annual piano exams to any student who would like to take them. It is a carefully-sequenced curriculum which includes classical, jazz, and popular styles, but which reinforces new concepts across all the genres. Any student who has completed levels 2-3 or above may enter the RCM program. Students may also study in the curriculum without taking any exams, and still benefit tremendously from it! Students who have progressed through Level 10 of RCM often earn "5's" on their AP Music Theory exams!
We're also adding the Jon George Artistry at the Piano method for anyone who knows from the outset that they would like an exclusively classical music course of study. This method is highly-regarded by piano pedagogues and provides rapid progress for the student willing to put in the time at home!
This summer, we also added a new method for children ages 4-10, Piano Safari, which uses animal shapes and gestures as a means for teaching technique. It also takes more of a "Suzuki" approach in having the child learn rote pieces before learning to read music - eliminating that "decoding" barrier from the child's first encounter with the instrument and allowing them to play satisfying music from the very first and begin to focus on technique. We added, as well, Faber's Piano Adventures, which is highly-regarded and produces fine pianists, as well!
I'm always on the lookout for the very best methodology and materials for the students. The field of piano pedagogy is only just beginning to work on deriving evidence-based methods. It will be an exciting time as all the research results emerge, improving the field of piano teaching forever and very quickly!
My training includes an M.M. in Piano Performance from the Cincinnati Conservatory of Music, and a B.A. in Music from Tufts University. I'm a two-time competition winner, as well- the Tufts Concerto Competition (open to all instrumentalists in the university) and the Elizabeth V. Tischler Piano Competition. Master classes with The Tokyo String Quartet, Joseph Kalichstein (March, 2016), The Raphael Trio, Eugene Pridonoff (former student of Rudolf Serkin).
Choose my studio for the best instruction in HOW to practice the most effectively at home to maximize your learning, to solve technical problems in order to best serve your musical interpretation, and find your artistic "voice". My goal is to help you learn to teach yourself, so you can just pick up a new piece of sheet music and learn and perform it on your own.
Topics taught: sight-reading; music theory and transposition; music history including composers, eras, and movements; musical genres; performance skills; and also if desired, collaborative and accompanying skills. Choose your genre(s) that you wish to study! Learn Beatles to Beethoven; fun music, or the way to serious advancement in the classical masterworks literature. Ages 4-up; age-appropriate teaching techniques and child-friendly warmth of spirit. Special patience for children with learning disabilities or ADHD. I have successfully completed a wonderful Jazz Improvisation course from the Berklee School of Music (December, 2015) just recently.
An advantage of our studio is that, as a member of the MEA-NJ (www.mea-nj.org), my students can be involved in the following opportunities not widely available to students in Sussex County: piano competitions; opportunities to perform in honors recitals and master classes; non-competitive auditions to obtain a 2nd opinion on the student's playing by another expert teacher; music theory testing; composition competitions; and I receive ongoing teacher education by participation in the teacher-only workshops and events, and participating in the teacher master classes. Our studio is beginning to use the MEA Music Theory syllabus as the foundation of our music theory study, so that we have benchmarks of what students will know and understand at each level of their development. This will provide a rigorous musical education in the foundations of harmony, compositional structure, etc. An exciting upcoming event is a ragtime celebration in November, 2017. Students will take a special, private tour of the "music machines" collection at The Morris Museum (including player pianos from ragtime's heyday!), then participate in a recital of ragtime music! (Again, completely optional to participate.) My students are beginning to prepare their ragtime pieces now for November.
My students participate actively in musical endeavors in other spheres, including school jazz band, playing keyboard at church, accompanying singer friends at the Vernon School District's annual "Artstanding" event, etc. A recent former student, at the age of 18, has just released her first-ever album of her own sung-and-played songs, "Yellow Balloon", some of which may be seen on YouTube. I actively encourage them to use their musical skills in other realms, as it reinforces everything they're learning and adds to their enjoyment of all they have accomplished with the piano!
Contact me for a sample lesson and see if my studio is for you! Then I very much encourage you and your child to go home, think about it, and make a decision (and let me know).

* Benefits of musical study:
Piano Lessons raise IQ and - just as importantly - sharpen the ability to sense emotions http://www.apa.org/monitor/jun06/iq.aspx
Musical study rewires the brain to make us into a better communicator, on and off the stage. And, keyboard study, specifically, is the very best instrument for doing this because of the equal treatment of left hand and right hand! http://www.limelightmagazine.com.au/news/study-shows-music-can-rewire-brain
Music Lessons may help focus children's attention, help them control their emotions, and reduce their anxiety http://psychcentral.com/news/2014/12/26/musical-training-may-improve-attention-span-anxiety-levels-in-children/79079.html
Music Lessons help kids with their math skills http://www.berksmusic.com/whymusic/whymusicimprovemath.html

Music Lessons boost verbal memory http://www.apa.org/news/press/releases/2003/07/music-memory.aspx
Music Lessons may boost IQ and grades http://www.apa.org/monitor/jun06/iq.aspx
Music lessons boost language skills http://www.webmd.com/children/news/20141216/music-classes-boost-language-skills-study-says

Two years of music lessons helped bridge the famous "achievement gap" in underprivileged kids http://www.webmd.com/parenting/news/20140903/music-lessons-may-help-bridge-achievement-gap

The following 10 benefits are supported with documentation at: https://www.psychologytoday.com/blog/the-athletes-way/201503/10-ways-musical-training-boosts-brain-power
Ten Ways Musical Training Boosts Brain Power

Babies who have music lessons smile more and communicate better
Benefits brain plasticity throughout a lifespan
Trained musicians have superior multisensory processing skills
Improves white matter connectivity
Increases blood flow in the brain
Improves executive function
Thickens gray matter of the cortex
Reduces academic achievement gaps
Orchestrates coordinated neuroplasticity in the aging brain
The following points are found at this well-researched brochure:
http://www.uscsd.k12.pa.us/cms/lib02/PA01000033/Centricity/Domain/173/Music_Advocacy_Flyer.pdf

Children with musical training:
* Score higher on the SAT
* Receive more awards and academic honors
* Have better self-esteem and less shyness (piano lessons were specifically studied with regard to self-esteem!)
* Have less school delinquency and better school attendance
* Are the most likely group to be admitted to medical school
* Piano students are better-equipped to understand scientific concepts
* Are emotionally healthier by the time they arrive at college and are less likely to grow addicted to alcohol while in college
Beyond all these benefits, music lessons will assist you or your child with growing confidence presenting in front of a group, bring lifelong enjoyment and stress release, help prevent cognitive decline during the aging process for adults (with ongoing music-learning), provide an activity in which to participate and work with others, and meaningfully enable you or your child to become part of the creative process/flow of humanity.

www.pianolessonsbycherwyn.com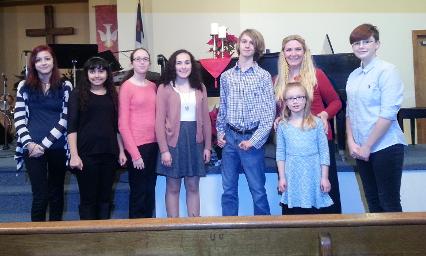 Look what you could do if you knew how to play the piano (below)! Consider purchasing a package of piano lessons for yourself or a loved one as a special gift...Valentine's Day, birthday, Christmas, piano lessons are always welcome and are a therapeutic relaxation for stressed adults!